Horizon's ultimate runner's treadmill with their most powerful motor. Built for running with Peloton, Studio.live and other fitness streaming apps*
Stream fitness classes like Peloton and Studio.live with advanced Bluetooth speakers. Easily adjust speed & incline with exclusive QuickDial™ controls and the 4.0 HP motor with Rapid Sync technology. Crush your goals with the integrated Sprint 8 HIIT program. All on a durable 60″ deck with 3-zone cushioning that will stand up to your hardest workouts.
Highly-responsive QuickDial™ controls and one-touch Interval Keys simplify speed and incline changes, and help you can keep pace with Peloton, Studio.live and other streaming fitness apps*
One of the best treadmills of 2019 according to RUNNER'S WORLD magazine
Clear view of workout data on 9.3" full color display with multiple options for phone and tablet placement
Change your playlist without breaking your stride with in-reach media controls
Stream on-demand fitness classes and entertainment with integrated speakers, track your heart rate and more with advanced Bluetooth connectivity
Powerful, 4.0 CHP motor has 33% faster speed and incline changes, perfect for interval training
Rugged frame built for performance and durability with 3-Zone cushioned deck
Expansive 22 x 60″ running surface provides ample room for hard sprints and HIIT workouts
Effortlessly store between workouts one-step hydraulic folding
Lifetime frame and motor warranty
HORIZON STUDIO SERIES
Stay in Sync with The Studio
The 7.8 AT Treadmill is designed to work with any live or on-demand fitness app. Now you can get the thrill of Peloton or Studio.live
running classes for a fraction of the cost.*
And smart features — like convenient 1-touch controls and the most responsive motor — make streaming classes more fun and effective.
*Tablet and subscriptions not included. All trademarks are property of their respective owners, are used for identification purposes only, and do not imply endorsement
CONNECT TO YOUR CONTENT WITH BLUETOOTH
Add a personal twist to take your workout further than ever. Whether you like to sweat to music, movies or on-demand classes, we make it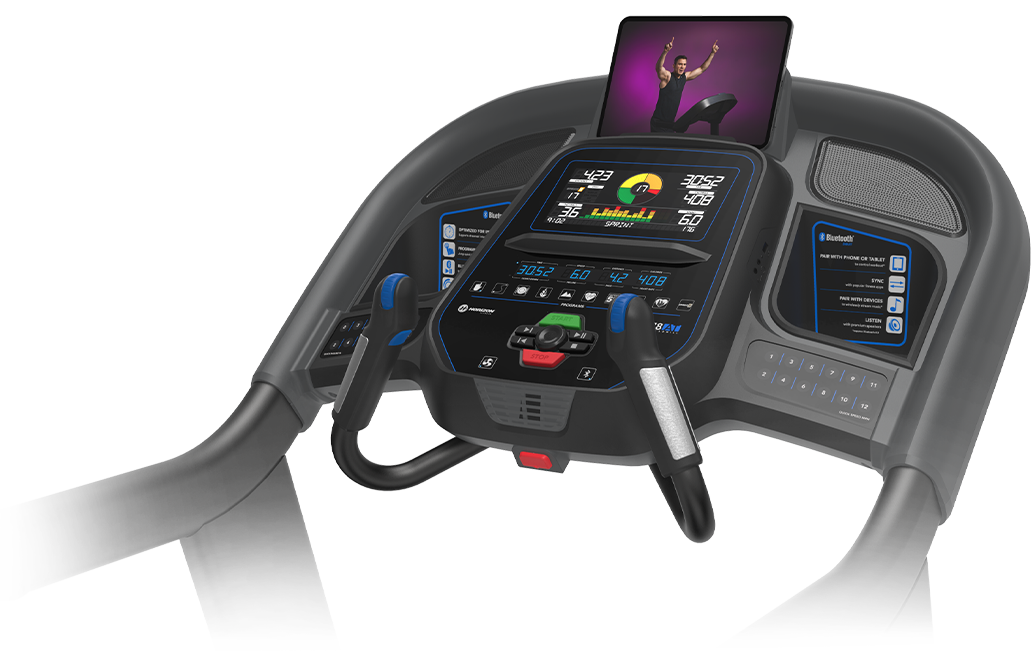 easy to stay connected to the content that moves you.
Advanced Bluetooth quickly connects to multiple devices to stream media through the integrated speakers, track your heart rate and more
Built-in device holder makes it easy to keep your tablet or phone in view for entertainment and instructor-led exercise classes
Rapid-charge USB port keeps your device fully powered during long workouts
DIAL IT UP –
Quick Precision Control
Experience faster, smoother transitions between intervals using QuickDial™ controls that simplify speed and incline adjustments without breaking your stride. On the right, roll the dial forward to increase speed and roll it back to decrease speed. On the left, roll it forward to go up the hill and roll it back to come back down. Available exclusively on the 7.8 AT Studio Treadmill by Horizon Fitness.
LIGHT UP
YOUR WORKOUT DATA
Push your interval workouts further using the 60 second countdown timer while viewing all of your key metrics on dual full color LCD and LED displays. Bring your personal devices to your workout without blocking your data, thanks to multiple convenient media holder options and a built-in charging port.
RAPID SYNC MOTOR – Perfect for Interval Training
Power your workouts with a 4.0 Continuous-Duty Horsepower motor and 500 lb thrust incline motor. Together, they create the most responsive drive system available in a treadmill. That means faster changes and a smoother, more efficient run.
The Johnson Digital Drive System featuring Rapid Sync™ Technology ensures no lags or delays between speed and incline changes. It responds 33% faster than other treadmill motors, so you'll never fall out of step with a fast-paced interval running class.
The ultra-quiet Johnson Drive System also runs at lower RPMs, keeping the motor cooler for long lasting performance.
SPRINT 8 – Maximum Results, Minimum Time
Achieve maximum results in less time with the efficient 20-minute high-intensity interval training workouts that you can fit into your
schedule, proven to burn up to 27% body fat in just eight weeks. And it's easy to get started — this exclusive sprint-intensity workout is pre-programmed and available at the touch of a button.
Sprint 8 is more efficient than a basic HIIT workout because it engages fast-twitch muscle fibers and naturally stimulates Human Growth Hormone (HGH). This triggers a response in the body that melts fat, encourages lean muscle mass and increases energy.
Anyone can do Sprint 8 – Sprint 8 includes custom settings for every fitness level. For beginners, an "all out sprint" might be a fast walking pace. Advanced athletes can use Sprint 8 to improve performance. As long as you are pushing yourself, you will realize remarkable results. Sprint 8 fights the symptoms of aging and improves energy levels in short 20-min sessions, which means it's perfect for aging adults or busy parents who struggle to find the time to workout.
EXTRA LARGE DECK GIVES YOU ROOM TO RUN
Whether you're a jogger or a sprinter, this extra large deck gives you the freedom and security to run at your pace. At 22″ x 60″, it's the commercial standard in deck size and technology.
All Horizon treadmill decks are built with shock-absorbing 3-Zone Variable Response Cushioning to give you the ideal amount of flex and support in all phases of your stride.
Heavy-duty materials and the strongest deck and frame combination mean this treadmill will stand up to your toughest workouts for years to come.
Horizon treadmills are sturdy and built to last. This deck and frame combination gives you the durability you demand at an unbeatable value.
SMART FITNESS TECHNOLOGY
Connect your tablet and Bluetooth heart rate monitor using the free Pro app. This free, no-subscription app lets you control your workout from your device's touchscreen.
Plus, it automatically pushes workout stats to your favorite fitness apps like Fitbit and Under Armour, so you can keep track of all your data in one place.
*Tablet, phone and chest strap not included. App available on Google Play and the App Store.
| Total Value | | 7.4 AT | 7.8 AT |
| --- | --- | --- | --- |
| Sale Price | | $1,695 | $1,999 |
| Total Savings | | $704 off MSRP | $700 off MSRP |
| Financing Available | | Yes | Yes |
| | | | |
| Machine Specs | | 7.4 AT | 7.8 AT |
| --- | --- | --- | --- |
| Frame Type | | FeatherLight Folding | FeatherLight Folding |
| Running Area | | 22″ x 60″ XL Deck | 22″ x 60″ XL Deck |
| Cushioning | | 3-Zone Variable Response Cushioning | 3-Zone Variable Response Cushioning |
| Drive Motor | | 3.5 CHP RapidSync Drive System | 4.0 CHP RapidSync Drive System |
| Belt | | 1.6mm, Silicone | 1.6mm, Silicone |
| Deck Thickness | | 0.8″ (20mm) | 0.8″ (20mm) |
| Roller Size | | 60mm/46mm Tapered | 60mm/46mm Tapered |
| Speed Range | | 0.5 – 12 mph | 0.5 – 12 mph |
| Incline Range | | 0 – 15% | 0 – 15% |
| Extras | | Audio In/Out Jack, Bluetooth Speakers, Energy Saver Mode, Fan, Multi-position Tablet Holders, Water Bottle Holder | Accessory Tray, Aluminum Side Rails, Audio In/Out Jack, Bluetooth Speakers, Energy Saver Mode, Fan, Multi-position Tablet Holders |
| Weight | | 318 lbs. | 330 lbs. |
| Assembled Dimensions (L x W x H) | | 76″ x 37″ x 63″ | 76″ x 37″ x 64″ |
| Folded Dimensions (L x W x H) | | 42″ x 37″ x 71″ | 42″ x 37″ x 71″ |
| Max User Weight | | 325 lbs. | 350 lbs. |
| Electrical Requirements | | 60Hz – 120V | 60Hz – 120V |
| Home Warranty – Frame | | Lifetime | Lifetime |
| Home Warranty – Motor | | Lifetime | Lifetime |
| Home Warranty – Parts | | 5 years | 5 years |
| Home Warranty – Labor | | 2 years | 2 years |
| Console Specs | | 7.4 AT | 7.8 AT |
| --- | --- | --- | --- |
| Bluetooth Enabled | | Yes | Yes |
| Speakers | | Yes | Yes |
| USB Port | | Yes | Yes |
| Display | | 16 Digit Alphanumeric LED, 8.25″LCD Screen, Free Phone/Tablet Pro App that Interfaces with Machine | 16 Digit Alphanumeric LED, 9.3″ High Contrast Color TFT Screen, Free Phone/Tablet Pro App that Interfaces with Machine |
| Programs | | 5K, Calorie, Custom, Custom HR, Distance, Fat Burn, Heart Rate, Hill Climb, Manual, Sprint 8 | 5K, Calorie, Custom, Custom HR, Distance, Fat Burn, Heart Rate, Hill Climb, Manual, Sprint 8 |
| Workout Feedback | | Calories, Distance, Heart Rate, Incline, Speed, Time | Calories, Distance, Heart Rate, Incline, Pace, Speed, Time |