Advanced Bluetooth connects to multiple devices to stream media through integrated speakers
Includes free app to control your workout and push data to your favorite fitness apps, plus device holder and rapid-charge USB port
Quickly shift speed and incline with one-touch keys and handlebar toggles
Powerful, 3.0 CHP motor
Rugged frame built for performance and durability
60″ 3-Zone cushioned deck for comfortable footfalls
Effortlessly store between workouts with one-step hydraulic folding
Lifetime frame and motor warranty
CONNECT TO YOUR CONTENT WITH BLUETOOTH
Add a personal twist to take your workout further than ever. Whether you like to sweat to music, movies or on-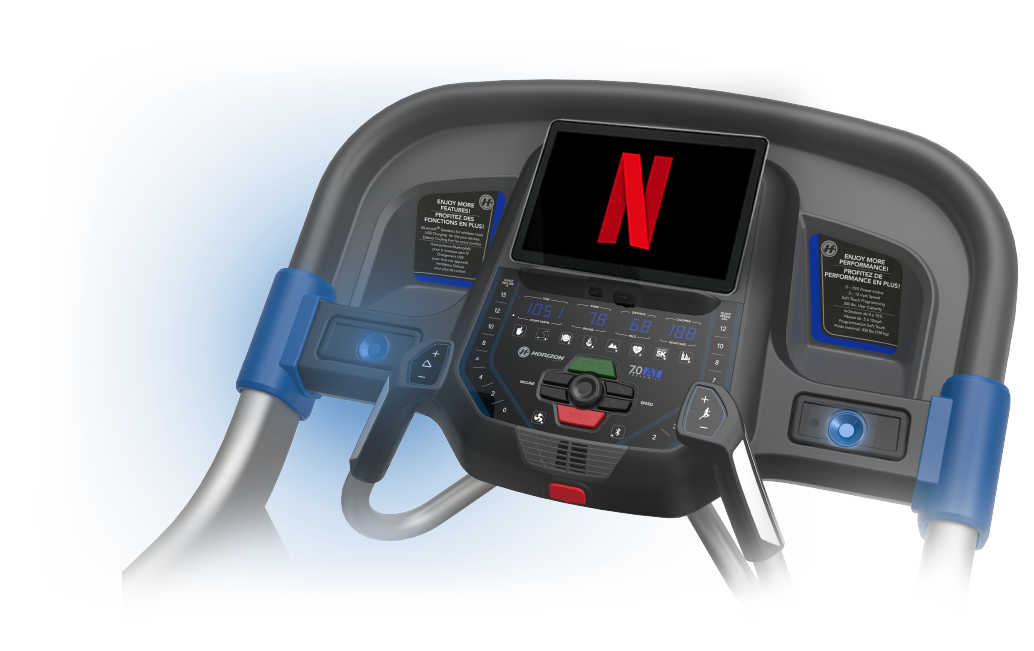 demand classes, we make it easy to stay connected to the content that moves you.
Advanced Bluetooth quickly connects to multiple devices to stream media through the integrated speakers, track your heart rate and more
Built-in device holder makes it easy to keep your tablet or phone in view for entertainment and instructor-led exercise classes
Rapid-charge USB port keeps your device fully powered during long workouts
QUIET, POWERFUL MOTOR
Power your workouts with a 3.0 Continuous-Duty Horsepower motor. The Johnson Drive System helps you stay in perfect rhythm with a durable and responsive drive motor that recalibrates with each footfall so you never feel lags or surges.
The ultra-quiet Johnson Drive System also runs at lower RPMs, keeping the motor cooler for long lasting performance.
EXTENDED DECK GIVES YOU ROOM TO RUN
Whether you're a walker or jogger, this 20″ x 60″ deck provides all the space and comfort you need to run at your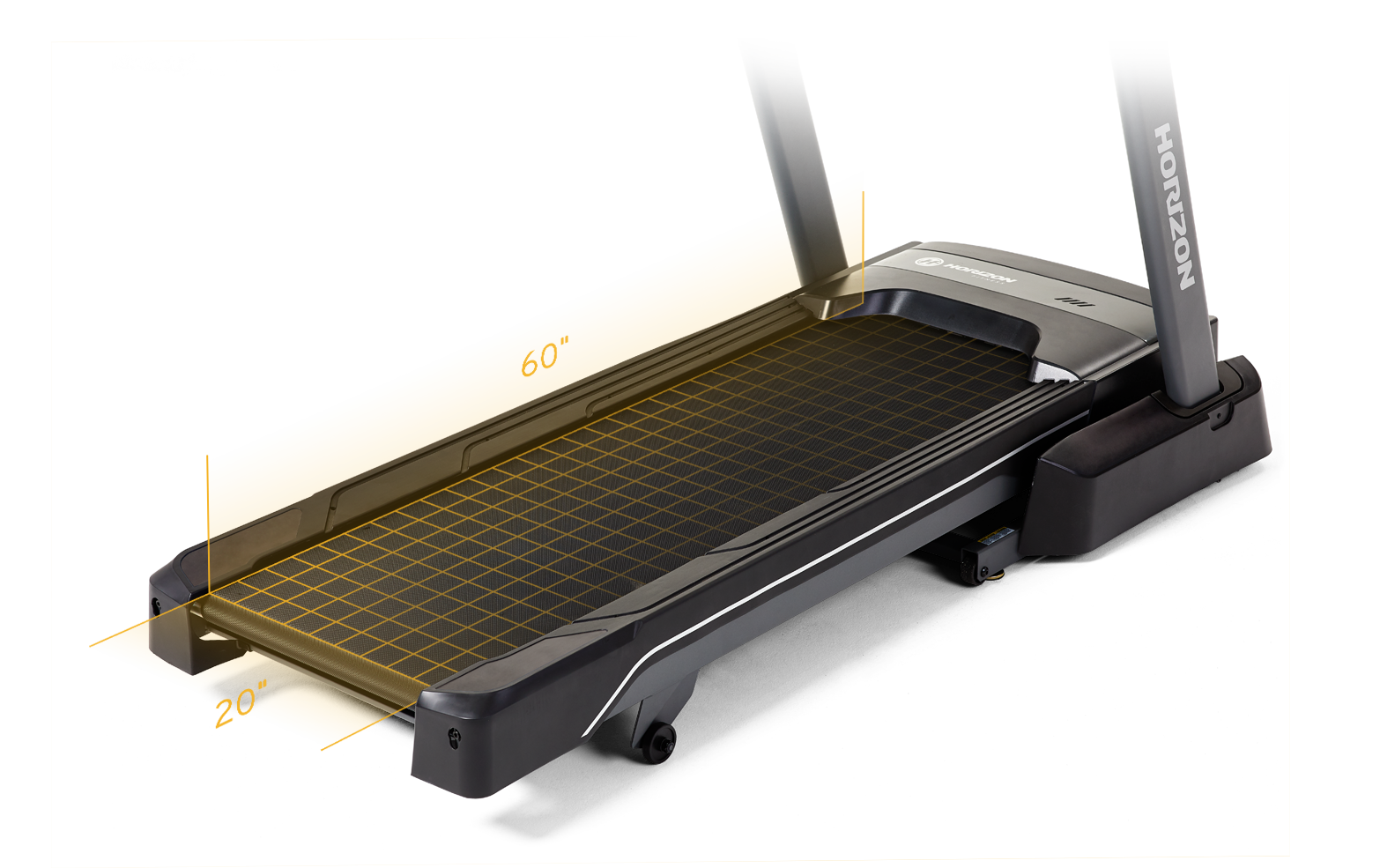 pace. All Horizon treadmill decks are built with shock-absorbing 3-Zone Variable Response Cushioning to give you the ideal amount of flex and support in all phases of your stride.
Horizon treadmills are sturdy and built to last. This deck and frame combination gives you the durability you demand at an unbeatable value.
SMART FITNESS TECHNOLOGY
Connect your tablet and Bluetooth heart rate monitor using the free Pro app. This free, no-subscription app lets you control your workout from your device's touchscreen.
Plus, it automatically pushes workout stats to your favorite fitness apps like Fitbit and Under Armour, so you can keep track of all your data in one place.
*Tablet, phone and chest strap not included. App available on Google Play and the App Store.

SPECS
| Total Value | 7.0 AT | 7.4 AT | 7.8 AT |
| --- | --- | --- | --- |
| Sale Price | $1099 | $1,699 | $1,999 |
| Total Savings | $900 off MSRP | $700 off MSRP | $700 off MSRP |
| Financing Available | Yes | Yes | Yes |
| | | | |
| Machine Specs | 7.0 AT | 7.4 AT | 7.8 AT |
| --- | --- | --- | --- |
| Frame Type | FeatherLight Folding | FeatherLight Folding | FeatherLight Folding |
| Running Area | 20″ x 60″ | 22″ x 60″ XL Deck | 22″ x 60″ XL Deck |
| Cushioning | 3-Zone Variable Response Cushioning | 3-Zone Variable Response Cushioning | 3-Zone Variable Response Cushioning |
| Drive Motor | 3.0 Continuous-Duty Horsepower | 3.5 CHP RapidSync Drive System | 4.0 CHP RapidSync Drive System |
| Belt | 1.6mm, Silicone | 1.6mm, Silicone | 1.6mm, Silicone |
| Deck Thickness | 0.7″ (18mm) | 0.8″ (20mm) | 0.8″ (20mm) |
| Roller Size | 60mm/46mm Tapered | 60mm/46mm Tapered | 60mm/46mm Tapered |
| Speed Range | 0.5 – 12 mph | 0.5 – 12 mph | 0.5 – 12 mph |
| Incline Range | 0 – 15% | 0 – 15% | 0 – 15% |
| Extras | Audio In/Out Jack, Bluetooth Speakers, Energy Saver Mode, Fan, Tablet Rack, Water Bottle Holder | Audio In/Out Jack, Bluetooth Speakers, Energy Saver Mode, Fan, Multi-position Tablet Holders, Water Bottle Holder | Accessory Tray, Aluminum Side Rails, Audio In/Out Jack, Bluetooth Speakers, Energy Saver Mode, Fan, Multi-position Tablet Holders |
| Weight | 253 lbs. | 318 lbs. | 330 lbs. |
| Assembled Dimensions (L x W x H) | 76.5″ x 36″ x 59″ | 76″ x 37″ x 63″ | 76″ x 37″ x 64″ |
| Folded Dimensions (L x W x H) | 41″ x 36″ x 70″ | 42″ x 37″ x 71″ | 42″ x 37″ x 71″ |
| Max User Weight | 325 lbs. | 325 lbs. | 350 lbs. |
| Electrical Requirements | 60Hz – 120V | 60Hz – 120V | 60Hz – 120V |
| Home Warranty – Frame | Lifetime | Lifetime | Lifetime |
| Home Warranty – Motor | Lifetime | Lifetime | Lifetime |
| Home Warranty – Parts | 3 years | 5 years | 5 years |
| Home Warranty – Labor | 1 year | 2 years | 2 years |
| Console Specs | 7.0 AT | 7.4 AT | 7.8 AT |
| --- | --- | --- | --- |
| Bluetooth Enabled | Yes | Yes | Yes |
| Speakers | Yes | Yes | Yes |
| USB Port | Yes | Yes | Yes |
| Display | 16 Digit Alphanumeric LED, 7″ LCD Screen, Free Phone/Tablet Pro App that Interfaces with Machine | 16 Digit Alphanumeric LED, 8.25″LCD Screen, Free Phone/Tablet Pro App that Interfaces with Machine | 16 Digit Alphanumeric LED, 9.3″ High Contrast Color TFT Screen, Free Phone/Tablet Pro App that Interfaces with Machine |
| Programs | 5K, Calorie, Distance, Fat Burn, Manual, Max Heart Rate | 5K, Calorie, Custom, Custom HR, Distance, Fat Burn, Heart Rate, Hill Climb, Manual, Sprint 8 | 5K, Calorie, Custom, Custom HR, Distance, Fat Burn, Heart Rate, Hill Climb, Manual, Sprint 8 |
| Workout Feedback | Calories, Distance, Heart Rate, Incline, Speed, Time | Calories, Distance, Heart Rate, Incline, Speed, Time | Calories, Distance, Heart Rate, Incline, Pace, Speed, Time |