DESCRIPTION
Pre and Post Workout Recovery Protein Powder
Available in Chocolate Milkshake, Chocolate Mint, and CTC
Maximum Assimilation and Amino Acid Retention Speeds-Up Muscle Repair and Growth
Phormula-1® is a premium-sourced whey protein isolate, and is by far the best tasting, best mixing isolated protein on the market. Not only will you taste the difference, you will actually feel the difference immediately when you use it!
The key to Phormula-1 is its purity: The Phormula-1 Matrix utilizes only the highest quality whey protein fractions, and it is a Low Temperature Processed Cross-Flow Micro-Filtrated Whey Protein Isolate to help promote assimilation speed and amino acid retention.* Because of the select protein source used in Phormula-1, it is easily digested.* It is virtually void of carbohydrates making it an ideal protein if you are on a low-carb diet or preparing for your next event. Phormula-1 provides a bioavailable, rapid assimilation protein source that is ideal for proper pre & post-workout supplementation.*
Phormula-1 makes an especially strong impact when used pre & post-workout! The materials you provide your body with pre & post-workout determine the quality of muscle built, and the rate at which repair and growth occur. Phormula-1 was formulated specifically for ideal recovery and muscle tissue repair after periods of moderate or intense training and can be paired with 1st Phorm®'s Ignition™ in a post workout setting. Phormula-1's rapid assimilation qualities are also ideal to use first thing in the morning to jump out of the natural catabolic state overnight fasting creates by giving your body a quick hit of essential amino acids to help promote muscle anabolism.*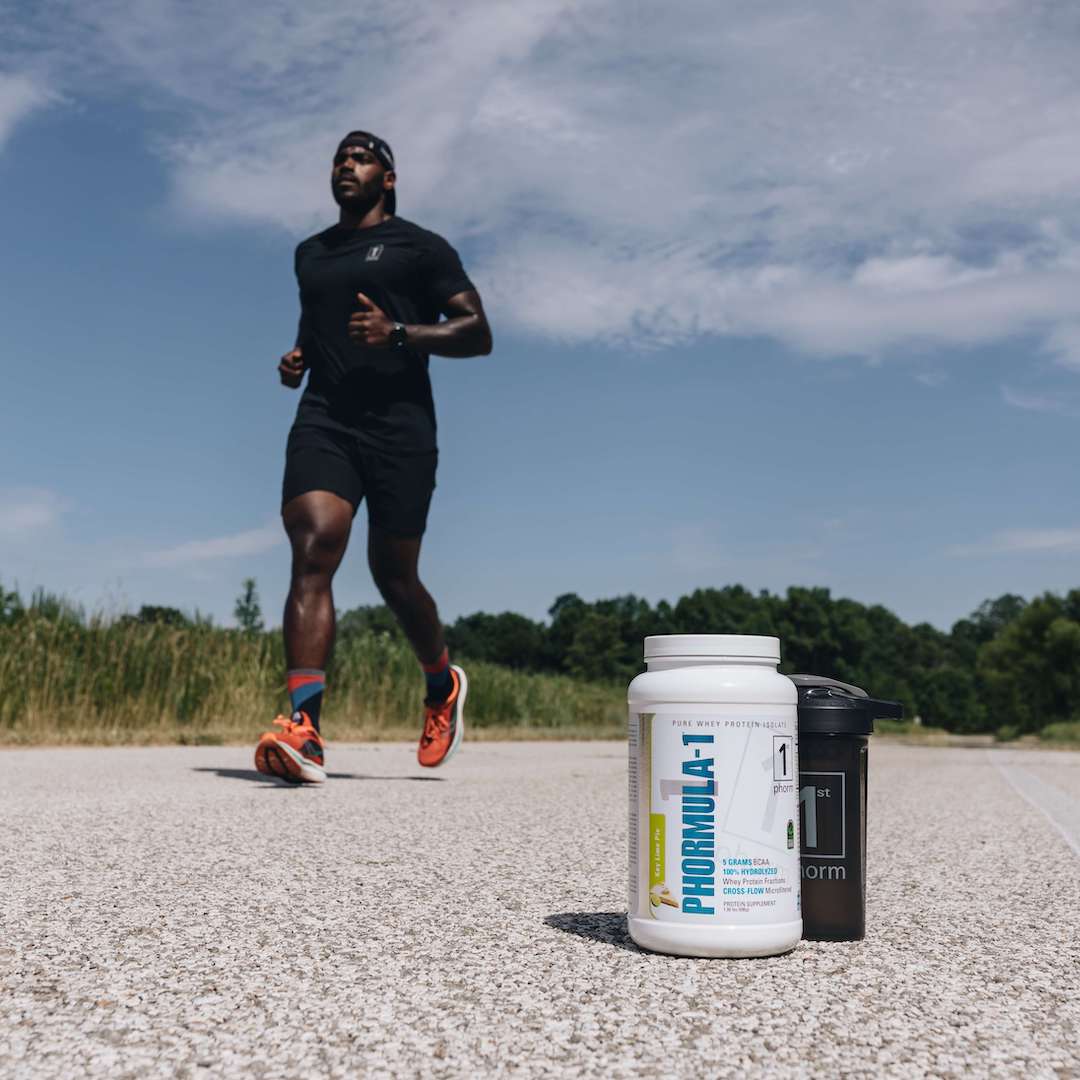 While Phormula-1's rapid assimilation is ideal post-workout or first thing in the morning upon waking, throughout the day you should be sure to keep a steady flow of quality amino acids to your muscles by utilizing the sustained assimilation protein source, Level-1®.*
Make the switch and feel the difference with Phormula-1!*
*These statements have not been evaluated by the Food and Drug Administration. This products is not intended to diagnose, treat, cure or prevent any disease.
What Makes Phormula-1 So Incredible?
We're confident that Phormula-1 is truly the best-tasting and best-mixing whey protein isolate on the market. We use strictly low-temperature processed, cross-flow micro-filtrated whey protein isolate. This ensures the highest possible quality for your body!*
On top of that, Phormula-1 is designed for rapid assimilation. This makes it an ideal option for recovery and quick muscle tissue repair. We mean it when we say you will literally taste and feel the difference immediately.*
Your body deserves the best, and with Phormula-1, you're getting exactly that!*
SUGGESTED USE
FOR BEST RESULTS: Let Phormula-1® sit for 60 seconds after mixing to allow air bubbles to dissipate which will ensure the smoothest possible shake.
MALES SHOULD:
PRE-WORKOUT: Use one (1) scoop of Phormula-1 with 1/2 scoop of Ignition in six (6) oz of water.
POST-WORKOUT: Use 2 scoops of Phormula-1 with 1 scoop of Ignition in 12 oz of water.
FEMALES SHOULD:
PRE-WORKOUT: Use 1/2 scoop of Phormula-1 with 1/4 scoop Ignition in 4 oz of water.
POST-WORKOUT: Use 1 scoop of Phormula-1 with 1/2 scoop Ignition in 6 oz of water.
CAUTIONS
WARNING: KEEP OUT OF REACH OF CHILDREN: Do not use if you are under 18 years of age, pregnant, nursing, or contemplating pregnancy. If you have any medical conditions or you are currently using prescription medications consult your physician before using this or any dietary supplements.
ALLERGEN STATEMENT: Contains Milk & Soy.
Manufactured in a facility which processes Milk, Eggs, Fish, Shellfish, Tree Nuts, Peanuts, Wheat, Soybeans, and Sesame.