DESCRIPTION
Meal Replacement or Snack Protein Powder
Available in Cinnamon Cookie Batter, Blueberry Muffin, and Strawberry Milkshake flavors
Delivers Sustained Assimilation*, Helps to Prevent Muscle Breakdown*, Helps to Promote Muscle Repair and Growth*
Just try it once! That's all it takes to understand what makes Level-1® such an incredible protein. Level-1 is so delicious that you'll wonder how you ever got by using anything else. Level-1 was designed from the ground up to be one thing: THE BEST.
Our goal was to create the best tasting, best mixing and most importantly highest quality protein on the market BAR NONE! A year in the lab and over a hundred rejected versions later: Mission Accomplished.
Level-1 is comprised of the Level-1 Matrix which is a bioavailable, sustained assimilation protein formula* consisting of Low Temperature Processed Cross-Flow Micro Filtrated Whey Protein Isolate, Low Temperature Processed Micro-Filtrated Whey Protein Concentrate and Low Temperature Processed Milk Protein Concentrate. The Level-1 Matrix is specifically formulated to deliver premium proteins in a sustained release which mimics the protein assimilation rates of whole food.* Level-1 uses only proteins that have been Low Temperature Processed to take extra precaution to not denature or damage delicate protein fractions. This helps with bioavailability and the preservation of the unique functional properties of the native proteins, which may help support your fitness goals.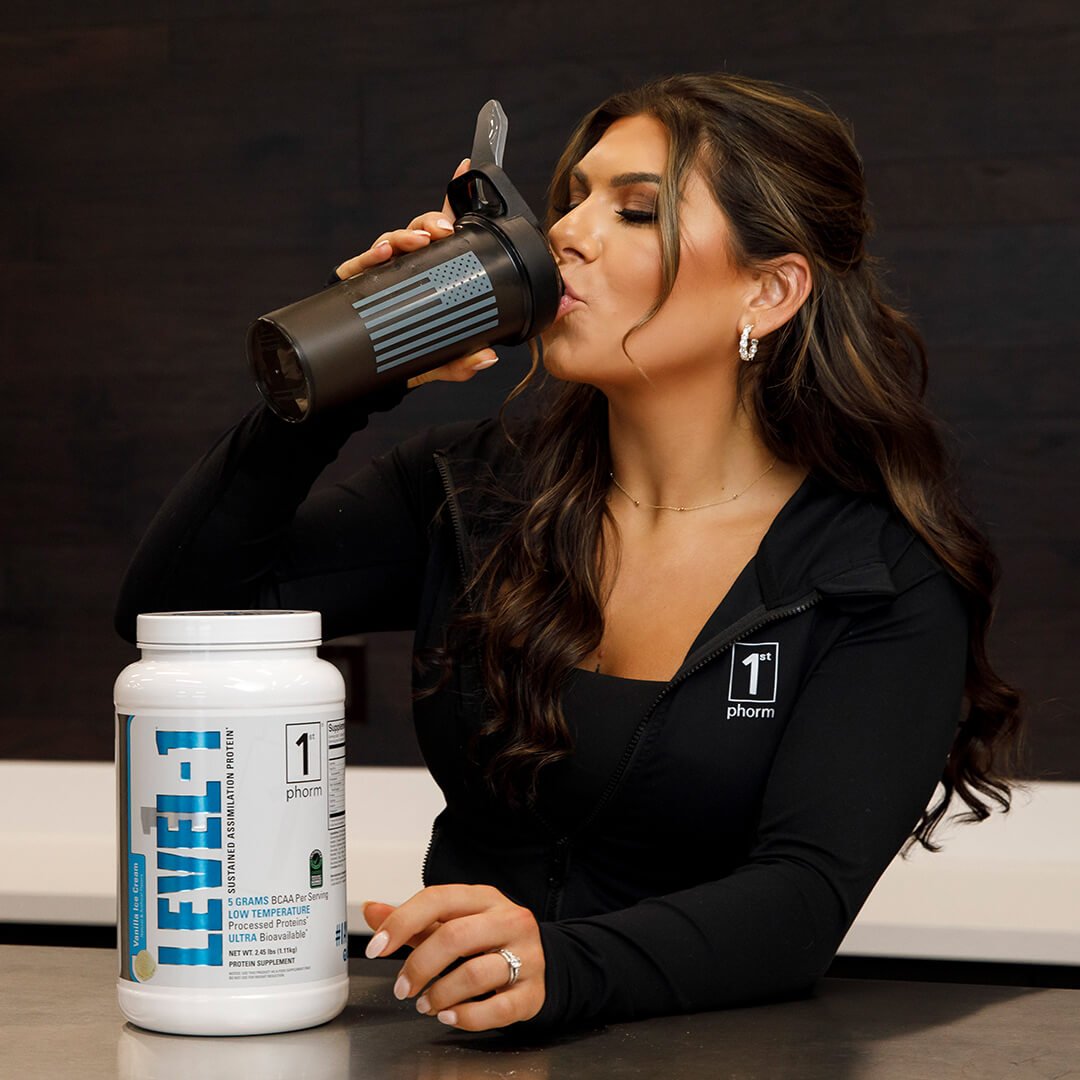 Level-1 also contains 5g of naturally occurring Branch Chain Amino Acids, the amino acids that help support muscle tissue repair and growth .* Level-1 also contains glutamine and glutamine peptides (at 2 grams per scoop) which makes up roughly 61% of the amino acid pool in muscle tissue.
Level-1: just try it once. That's all it takes.*
*These statements have not been evaluated by the Food and Drug Administration. This products is not intended to diagnose, treat, cure or prevent any disease.
What Makes Level-1 Different? 
Level-1 may not be the cheapest, but it is the best. Given its high-quality processing methods and our unwavering commitment to creating the best products, bar none … Level-1 is a reliable, convenient, and high-quality protein source you can count on anytime you're in a pinch. Just because you're busy doesn't mean you can't reach your goals!
If you've had protein powders in the past … you know just how gross some options can be. Level-1 tastes absolutely incredible. Quit settling for powders that are gritty, clumpy, and have a nasty protein aftertaste. Try Level-1 once, and you'll never turn back!
SUGGESTED USE
You may vary the amount of liquid to achieve desired flavor and consistency. Shake well or blend for 30 seconds or until smooth. Drink and enjoy!
MALES SHOULD:
Add 2 scoops to 8 ounces of ice cold water or milk for any meal or snack.
FEMALES SHOULD:
Add 1 scoop to 4 ounces ice cold water or milk for any meal or snack.
CAUTIONS
WARNING: KEEP OUT OF REACH OF CHILDREN: Do not use if you are under 18 years of age, pregnant, nursing, or contemplating pregnancy. If you have any medical conditions or you are currently using prescription medications consult your physician before using this or any dietary supplements.
ALLERGEN STATEMENT:
Flavors: Vanilla Ice Cream, Strawberry Milkshake, Red Velvet Cake, Pumpkin Spice Latte, Milk Chocolate, German Chocolate Cake, Cinnamon Cookie Batter, Chocolate Marshmallow, Chocolate Banana, Caramel Latte, Blueberry Muffin
Contains Milk, Soy.
Manufactured in a facility which processes Milk, Eggs, Fish, Shellfish, Tree Nuts, Peanuts, Wheat, Soybeans, and Sesame.