DESCRIPTION
1st Phorm Energy Drink sold in 12 cans.
Available in Blue Raspberry and Orange Sunrise.
Your search for the perfect energy drink ends here! Just one sip is all it takes to realize that 1st Phorm Energy is your new favorite energy drink.
What makes 1st Phorm Energy so special? For one, 1st Phorm Energy uses a natural caffeine to provide a smooth, crash-free energy. But that's not all… each can of 1st Phorm Energy also contains NeuroFactor and Huperzine, 2 powerful ingredients to help you stay focused and dialed in all day long.
On top of that, 1st Phorm Energy contains a blend of essential vitamins and minerals to support proper electrolyte balance and hydration, making it a great option to fuel your workouts.
Best of all, every can of 1st Phorm Energy has 0g of sugar. So, whether you need a mid-day boost, or even just a guilt-free way to satisfy your tastebuds … 1st Phorm Energy has you covered!*
NOTE: Free Shipping is not available for 1st Phorm Energy
*These statements have not been evaluated by The Food and Drug Administration. This product is not intended to diagnose, treat, cure, or prevent any disease.
The World's Best Energy Drink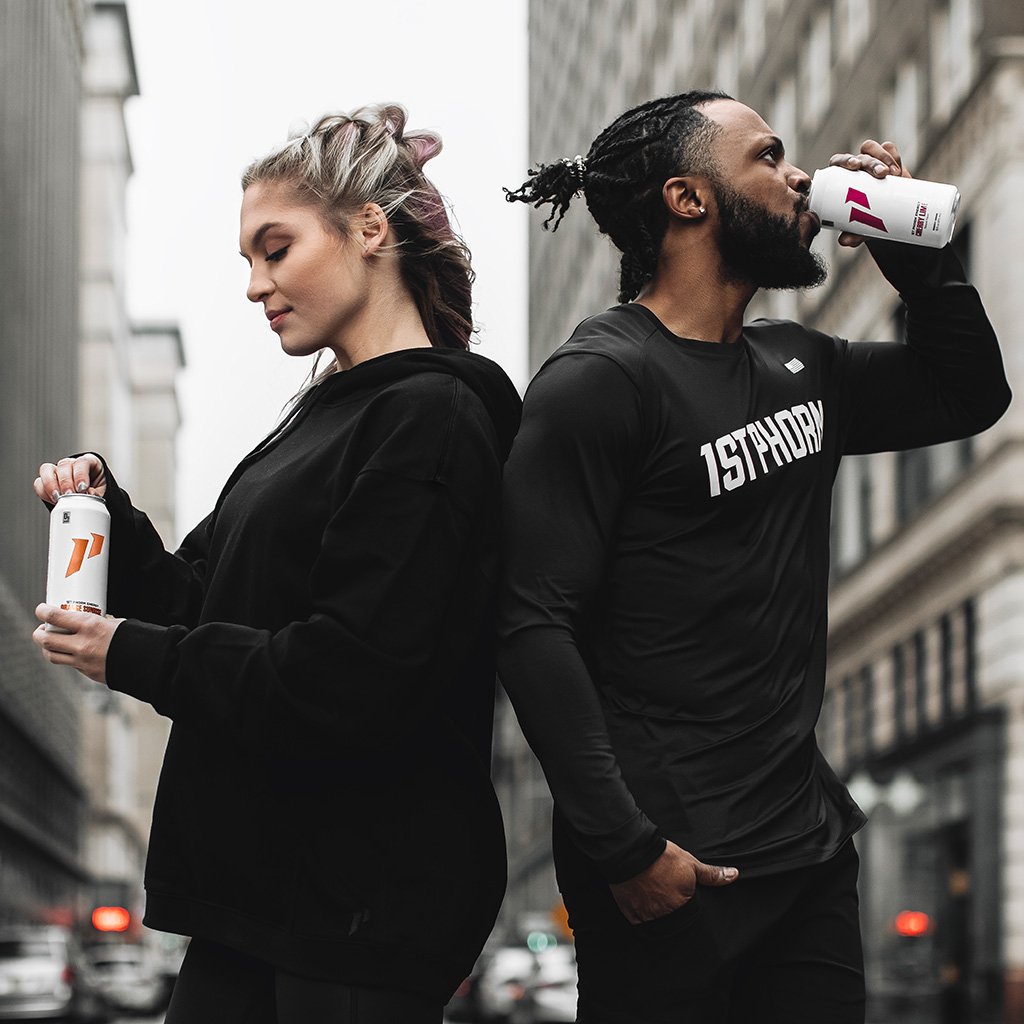 At 1st Phorm, we believe that energy drinks should be more than just some caffeine, flavor, and carbonation thrown together. We believe your energy drink should give you the long-lasting energy and laser focus you need to tackle any tasks in front of you. Through that belief, 1st Phorm Energy was born.
Yes, you'll still get caffeine, flavor, and carbonation … but we take it a few steps further. Each can of 1st Phorm Energy comes with two powerful nootropics to keep you dialed-in all day long: NeuroFactor and Huperzine A.
On top of that, we only use natural caffeine for a smooth and clean energy. You'll also get a blend of essential vitamins and minerals to support balanced electrolyte levels and proper hydration, further benefitting your energy and performance.
Between the incredible flavors and high-quality formulation, we know you'll agree that 1st Phorm Energy is the best.
SUGGESTED USE
Drink 1 can of 1st Phorm Energy when you feel the need for an increase in your energy levels. Do not consume more than 2 cans of 1st Phorm Energy in a 24-hour period.
CAUTIONS
WARNING: NEVER EXCEED RECOMMENDED DOSAGE of 1st Phorm Energy. Not intended for use by individuals less than 21 years of age. This product is intended for use by healthy adults between 21-55 years of age. Before consuming 1st Phorm Energy seek advice from a physician if you are unaware of your current health condition or planning any medical procedures. This product contains caffeine. Do not use with any other products that contains caffeine. DO NOT USE 1st Phorm Energy if you have any pre-existing medical condition. This includes, but is not limited to: cardiac arrhythmia, high or low blood pressure, heart, liver, kidney or thyroid disease, recurrent headaches, seizure disorder, anxiety, depression, psychiatric or epileptic disorders, diabetes, pernicious anemia, difficulty urinating, enlarged prostate, glaucoma or if you are taking a MAO inhibitor, anti-depressants, aspirin, non-steroidal anti inflammatory drugs or products containing ephedrine, pseudoephedrine or other medications or over the counter drugs containing stimulants or any other medication. DO NOT USE if you are pregnant or nursing, prone to dehydration, exposed to excessive heat or have an allergy to iodine. Discontinue use immediately and call a physician if you experience chest pain, tremors, dizziness, severe headaches, nausea, irregular heartbeat or shortness of breath. Consume a minimum of 120 ounces of water daily in conjunction with a healthy diet and regular exercise. KEEP OUT OF REACH OF CHILDREN AND PETS. Too much caffeine can cause nervousness, irritability, sleeplessness and rapid heart beat.